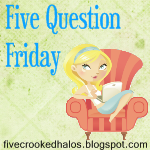 Rules for Five Question Friday: Copy and paste the following questions to your blog post, answer them, then c'mon back (on Friday am) to link up! I would love it if you'd link back to me...but it is not a requirement!
If you don't have a blog, but still wanna play along...leave your answers in the comments below!
Questions for Friday, September 17th: (Special thanks to Valerie, Katie, Sandy, Pam, andAnn for their question suggestions! I'd like to link YOU in a future 5QF, so c'mon over to my community and offer up your best question suggestions!)
1. What is the first nightmare you remember?
This one is hilarious! Mom, if you're reading you already know my answer....
My first nightmare is also the first dream I can ever remember. I was itty bitty! I had a dream that my mother passed away during the day and my dad showed up after his day at work. He just so happened to bring along a woman who was supposed to look just like my mommy. Since I was so young, when I woke up I didn't understand it was just a dream. I went around for months telling my mom she wasn't my real mother. I remember my grandfather trying to convince me one night before bed. It was awful and I can still remember it in detail to this day!
2. Even if you're not a sports fan, what's your favorite sport to play/watch?
This is easy! I'm a football fan all the way! If you can't tell my reading my blog, my family pulls for the University of Tennessee!
3. If you could pull off one piece of trendy fashion, what would you want it to be (jeggings, hats, thigh high boots, etc.)?
I would love to pull off any kind of boots! For starters, I really have no place to wear cute boots. I would love to have some with cute, little heels, but have you seen my kid? If I carried him around while wearing those, my poor back would hate me forever!
4. Did you make good grades in school?
Oh, yeah. I think I made maybe two C's my whole life. I graduated in the top ten percent of my high school class with a full scholarship to college. Then, I graduated from college cum laude. I was a
extremely
a little fanatical when it came to my grades!
5. What magazines do you subscribe to?
I love my Better Homes and Gardens subscription! I also subscribe to Parenting, but rarely get the chance to read it.