It's time for some blog hopping from my nice, comfy recliner! I found some great blogs today and I would love to share them with you!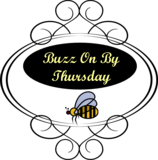 And the best advice I've heard all week:
"You learn that everything can usually wait a day or two so you think it over. Never make a decision until you sleep on it."
It's such a simple piece of advice, but it seems like most people in this world want to jump right into action! It makes you wonder what things would be like if a lot more people practiced this bit of wisdom! Just thought I would share something that really made me stop and think about things this week!