This may be the most difficult thing I've ever shared with you here.
If you've followed my weight loss journey for a while, you know it's taken me quite a while to get here.
There have been so many days that I have struggled through this.
I've told you that I've never regretted one moment of this though.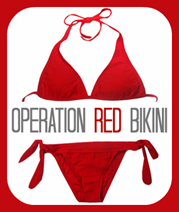 Want to see why?
The black swim suit was tried on last year around this time. I had lost some weight and was feeling quite a bit better! But I still wasn't brave enough to show these pictures to you....
This was May 27, 2012.
I took them hoping and praying that one day I would be able to show you better ones.
While I'm not exactly where I want to be just yet, I want to show you the difference a year makes.
These were taken May 24, 2013.
There are days that you get so aggravated with seeing no progress for a month.
There are days that you feel like you've given it everything you've got and then see nothing the next day.
I've been there. I have fought for every single pound I've lost.
But it is worth it.
I can't always put into words how amazing I feel since I've taken better care of my body.
But I can let you see the difference.
If you put junk into your body, you'll get junk out.
True achievements don't happen overnight. It's a slow, steady progression that gets you exactly where you want to be.