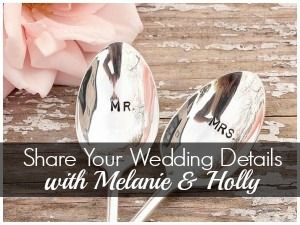 Share Your Wedding Details
Location (church/outdoors/destination):
Ryan and I got married on a 70' Bluewater on August 1, 2008, close to the marina where we work.
Colors:
Bridal Party:
It was just a small family thing. My parents, my brother and sister-in-law, aunt, stepgrandmother, and Ryan's parents were there.
First Dance Song: I'd Love to Be Your Last by Clay Walker
Honeymoon: We spent an amazing week in Tellico Plains, Tennessee. We went to Gatlinburg and Pigeon Forge for a couple of days. It was just so laid back and relaxing. I almost landed a monster of a trout on one of our fishing days. We just had the best time.
What would you do different? Absolutely nothing! It was perfect! The wedding was a time for us to celebrate with our family. We didn't stress out over anything and we got a sunset boat ride. What could be better?? I married by best friend and it was one of the happiest days of my entire life.