I am so excited this morning! Our Motivation Team has gathered to bring you the largest weight loss link up around! These beautiful ladies have been so encouraging and helpful during my journey and I simply cannot wait to share them with you. They have some tried and true tips to get you through the toughest parts of losing weight and getting fit.
If you link up with us today, would you mind grabbing our blog button? We'd love to spread the word and reach as many people as possible!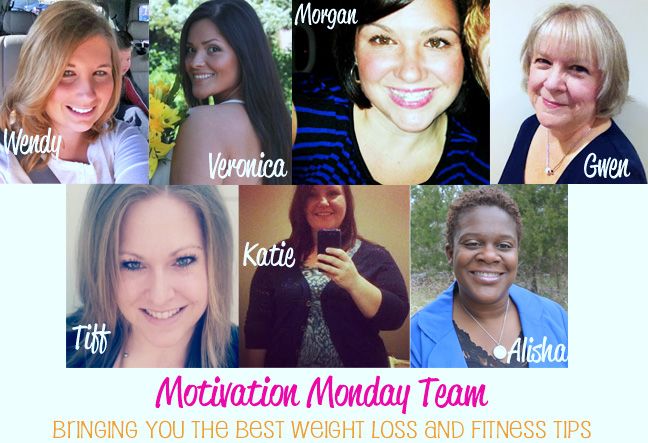 If you're looking for the ladies' blogs, you can find them here:
Wendy @ Daily Dose of Del Signore
Veronica @ V Watts' Thoughts
Morgan @ Fat to Fit Confessions
Gwen @ Sky n Surf
Tiff @ The Fit Train
Katie @ The Carb Monster
Alisha @ Coily Locks
I've got a super simple tip this week.
Try switching to whole grain breads this week instead of the regular white breads. The fiber and protein from the whole grains will leave you fuller longer and will keep your energy elevated longer than regular white breads. If you pick up bread at the store, make sure it reads "whole grain" or "whole wheat". They are now easily found as alternatives in the grocery aisles. Studies have shown that switching from white to wheat may lower the risk of heart disease by twenty percent.
On to my feature from last week's link up...
I have to admit that I completely fell head over heels for someone as soon as I stumbled across her blog. Once you read her blog, I just don't think you can stop yourself from liking her....
Lori at

Fat to Fit 41

is just simply amazing! She offered some great clean eating tips last week, so make sure you stop by to check them out. Her transformation story has been featured by the Huffington Post and Fitness Magazine. Friends, she is absolutely the real deal and I am sure you will enjoy her blog and personality as much as I do.
Ready to link up your posts for the week?
You know what to do....